Uniform and Equipment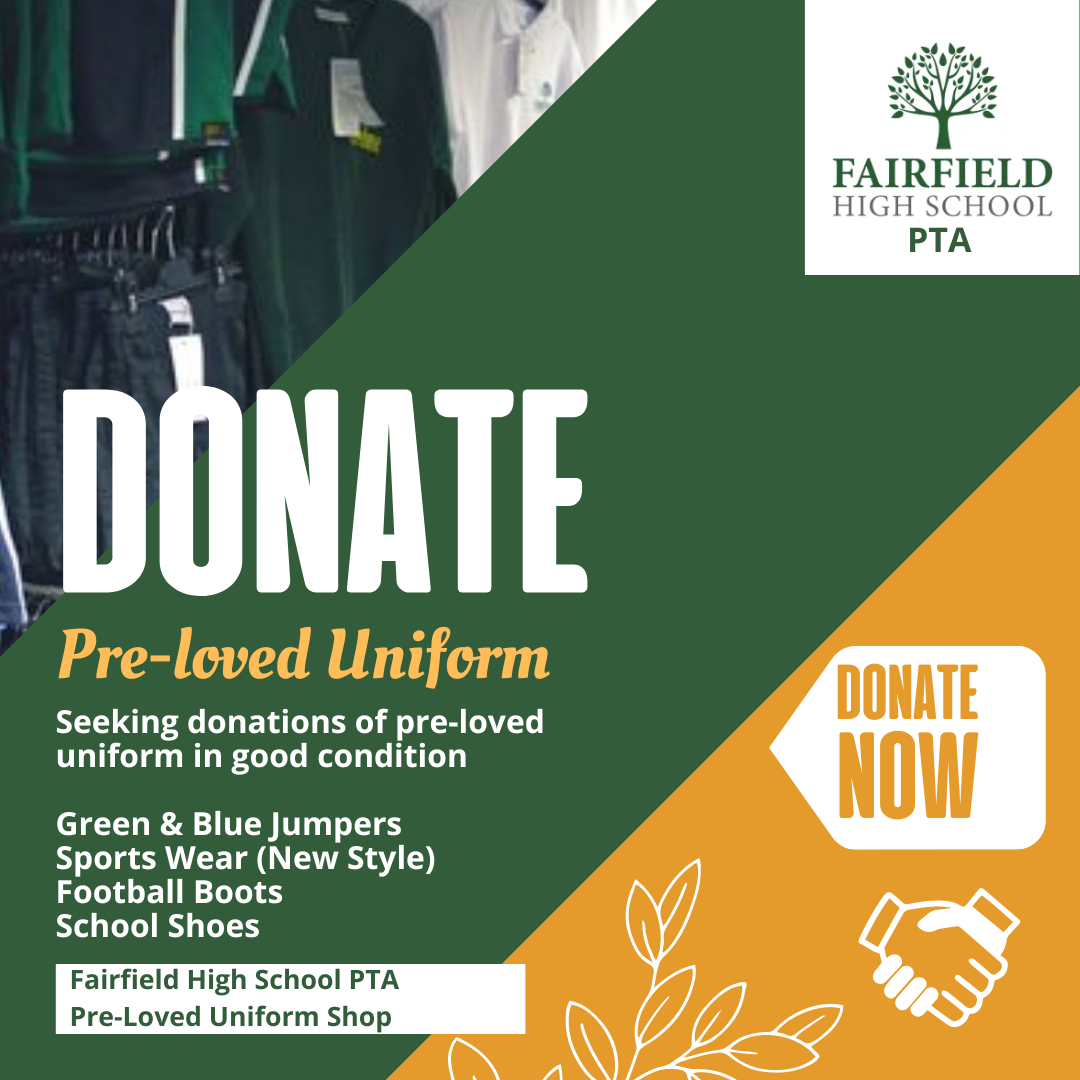 School uniform is compulsory and is designed to be practical and comfortable and to meet requirements of Health and Safety. It is an important part of belonging to Fairfield and we expect students to look smart and wear their uniform with pride. We have minimised the number of badged items to keep down costs.
All students are expected to wear the following:
White long or short sleeved polo shirt with the embroidered Fairfield logo for Y7-10; white short or long sleeved plain tailored shirt for Y11
Fairfield school jumper with the embroidered Fairfield logo. Green for Y7 – 10, navy for Y11.
Plain black tailored trousers OR plain black tailored skirt, either A-line or with large box pleats, knee length.
These should have no adornment – (e.g. studs/external zip, etc) though a plain black narrow belt may be worn if necessary.
The following styles are specifically NOT acceptable for either trousers or skirts: Cords, jeans/jeans style, lycra, stretch, skinny, capri, tapered ankle, leggings, jeggings, tight mini skirts, skater style, small pleats
The school reserves the right to prohibit other fashion styles not listed here. If in doubt, please contact the school before purchasing.
Black, flat, sturdy waterproof shoes suitable for walking around a rural site and along a muddy lane.
Black trainers or any shoe the school judges to be a trainer are NOT acceptable. The school reserves the right to make this judgement and advice/ descriptions of appropriate school shoes from shoe retailers will not be accepted.
Flat means the heel height should be a maximum of 5cm.
Waterproof means they should not be made of any type of cloth fabric, be backless or open toed.
Heavy work boots with steel toe caps are NOT acceptable.
During periods of bad weather, we will allow students to wear black, flat, waterproof boots under their trousers but NOT with skirts.
Black socks – non-branded.
Coat – non-branded. It should be a warm and waterproof coat without large pictures or logos. Hooded sweatshirts or hooded jackets are specifically NOT acceptable.
Jewellery is not allowed at school, except for one small plain stud in each ear lobe, and a watch. No other body piercing is allowed and students will be asked to remove additional jewellery including nose studs
Hairstyle and colour should be appropriate for school / a work environment.
Makeup should be discreet and kept to a minimum.
Hair must be tied back for all practical subjects and students with long hair should have an elasticated hairband in their bag for this purpose.
PLEASE ENSURE ALL ITEMS ARE LABELLED CLEARLY WITH THE OWNER'S NAME
Sports Kit
Please ensure that students have suitable supportive or protective underwear for PE.
Students are advised to wear shin pads for hockey, football and rugby. If chosen to represent the school, these items are essential.
Equipment and Smart Start
Students will need a sturdy school bag in which to carry everything they need for the day. Equipment will be checked daily for SmartStart. Additionally, students will be expected to have their planners and reading books with them.